­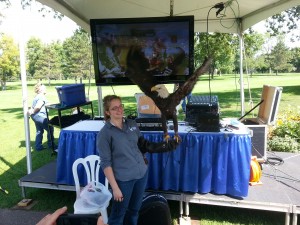 For the 2013 event, we connected an audience at Mendakota Country Club with a Minnesota National Guard unit stationed on a base at an undisclosed location in Afghanistan.

Here is a link to a video with most of the opening ceremonies, including some songs from Rockie Lynne – not bad for a cell phone video, and next time I will get the entire National Anthem.  Thanks to my friend, Rick, who handled the webcam so I could look for good angles for the recorded video.
Here is a link to a video of the Bald Eagle exhibit and the guys in Afghanistan.  The big screen TV shows lots of glare in the video, but looked fine for everyone in the live audience.
And here is a video of the Freedom Riders arriving at Mendakota Country Club a few minutes before the opening ceremonies.  The Freedom Riders are a rough looking group and could probably break some bones if necessary.  But these are the folks who come to the funerals for our fallen heroes and make sure protesters and others who want to disrupt private family gatherings stay away. Glad these guys are on our side!