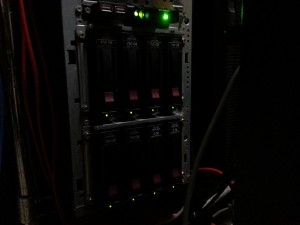 By Jan. 4, 2015, I now have an automated backup script in place.   Every day at 4 PM, I backup the website and supporting files to my Windows server.  From there, it goes to an external backup system every night.  I built another test VM and restored my backups to it and viola – another identical copy of the Infrasupport website.  So if another outage like this hits, I'll be ready.
***********************
As of 6AM Thursday, Christmas morning, Dec. 25, 2014, the website is fully back online.  It's all there.  All the blog posts.  All the pages.  Everything. Except one missing picture I haven't been able to find yet.  It was a screenshot I took with a blog entry I wrote 14 months ago about the disaster at healthcare.gov and I have no idea what I did with it after copying it to the website.  As far as I can tell, that's the single, one and only missing piece of content.  55 pages, 25 blog posts, 77 pieces of media.  All recovered by hand either from archive.org, Google caches, or memory.   And I'm missing one screen shot from one forgotten blog post.  Not bad.
Merry Christmas.  Maybe now I can get some sleep.  Backups first this time.  Then sleep.
***********************
As of 4AM Dec. 24, the most important web pages should be back online. The submenu items and some of the blog entries are still missing.
***********************
Pardon the mess while I rebuild the Infrasupport website.  It was a casualty of a catastrophic hardware failure on Saturday night, 12/20/2014.  I'll have it back up with updated versions of WordPress and the new Responsive Mobile theme from Cyberchimps in a few days.  Watch for minute by minute updates to menus and content while I recover it all and a new blog post with details once I get it back in shape again.  In the meantime, a hearty thanks to the folks at archive.org.  Until I'm fully recovered, you can find a copy of most of the content here.
– Greg Scott
Dec. 22, 2014
Updated Dec. 24, Dec. 25, 2014, and January 6, 2015.